Skip to Content
Top-Notch Floor Tile and Grout Cleaning
Have you noticed dirt and debris building up between the tiles in your commercial building? Does the thought of all that scrubbing and cleaning make you tired and your backache? Not to worry – we are here to help. Universal Management and Maintenance provides exceptional tile and grout cleaning in Enid, OK, and throughout the surrounding areas. Locally owned and family operated since 1964, we are committed to our customers' needs and provide them with the highest quality cleaning solutions. When you need immediate, reliable, and efficient cleaning services, don't hesitate – call our team right away.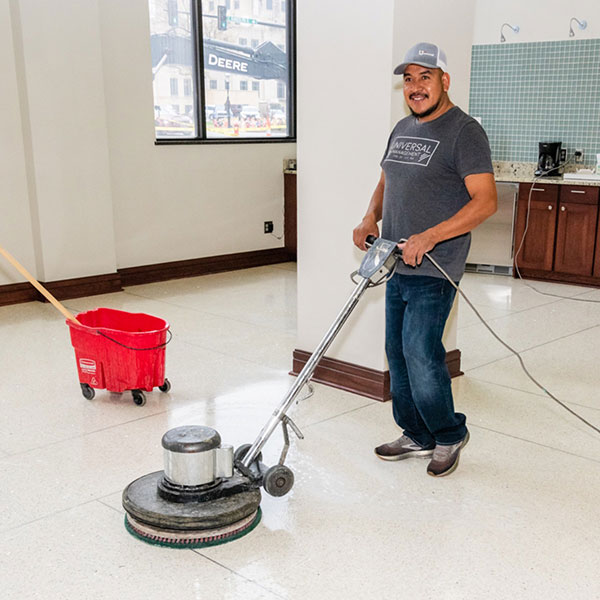 Fulfilling Your Cleaning and Restoration Needs Since 1964
Your facility's flooring is subject to tough wear and tear and can easily be damaged. With our help, years of grime and dirt will be washed away, making your floor shine like new again. Our team uses the best on the market when it comes to cleaning products, materials, and equipment. We can ensure you get the best clean and shine for your tiles when you partner with our team. Whether you're looking for regular maintenance or if it will be your first tile cleaning in a long time, we're confident you'll love the results of our innovative cleaning solutions.
No Speck of Dust Will Be Overlooked
Maintain a higher standard of cleaning for your facility without the hassle of doing it yourself. Our expert team is attuned to every single detail, so you can be confident that when we are finished with your tile and grout, no speck of dust will be overlooked. For nearly 60 years, Universal Management and Maintenance has been fulfilling our customers' cleaning and restoration needs, and we look forward to helping you, too. To get a free estimate on our tile and grout cleaning services, call or message us today.
Get Your Free Quote Today!